Cave Runners!
Controls:
- Press button, click mouse or tap the screen to make your runner jump.
- Use the restart run menu option in the pause menu if you feel you're wasting too much time on a single run.
Features:
- Simple one-button/mouse-click/screen-tap control allows you to play on your PC, tablet or smart phone.
- In Cave Runners there is no death nor damage, only annoying difficult jumps, missed jumps, one-sided walls and evil inanimate things alike.
- 6 unlockable extra playable characters.
- Each character has an extra secret target objective... be sure to find it.
Gifs: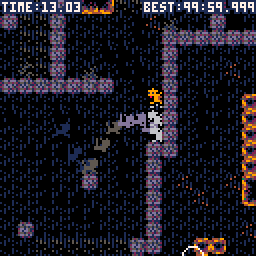 Special thanks to my wife for playtesting the game, people in twitter for motivational retweets and likes and the pico-8 comunity that post useful code examples with techniques, tweetcarts and whatnots.
Feedback, critiques, bugs, best-times, screenshots, etc would be greatly appreciated by yours truly.
Comments
Log in with your itch.io account to leave a comment.
Great game ! I love the fact that each character plays in the same world but it still feels like a new level 'cause you fo to new places.

I think finding the final dude might be too easy to feel like an ending. It took me 30 sec while the other took me 2 minutes so.. yea.
It's super cool that you made it so that if you jump a bit before you hit the floor you'll just jump again as soon as you hit the floor. really pertinent for that kind of game.
Level design is a bit confusing sometime but I guess that's okay
Great work ! :)